What is an analog quartz watch?
An analog quartz watch's movement (i.e., engine) is powered by a battery. A crystal oscillator at its core provides a basis of time and creates an electric signal through an electronic circuit (integrated circuit). The signal from the IC is converted into mechanical energy by a stepper motor that turns the hands of the watch.

The vast majority of watches sold today are analog quartz, as an analog quartz movement has many advantages. These include long battery life; precision; the ability to add functions such as a calendar, stopwatch, timers or battery life display; reliability; good thermal behavior (as temperature does not affect the rate of oscillation of quartz); and affordability. Mechanical movements, on the other hand, are more expensive and time-consuming to produce, but are valued for their craftsmanship, artistry and beauty. Mechanical watches, and especially automatic watches, are sometimes handed down for generations as heirlooms.
Miyota's analog quartz movements
Miyota's quartz movements are different from other companies' in several ways. Miyota produces almost all its parts internally to maintain high quality. Its movements are designed to consume little power. The Powercell Saving Reset Mechanism (PSRM) enables 1/3 battery savings through pulling of the crown. Also, the function of the Overload Comensation Device (OLCD) can make battery consumption minimal. Furthermore, Miyota's quartz movements feature the company's patented Shock Detection. When a watch receives a shock, a large electric current is released that maintains the proper functioning of the watch.
History of the development of
Miyota's analog quartz movements
Miyota formed in 1980 and will celebrate its 40th anniversary in 2020. In 1981, Miyota created the world-standard movement Caliber 2035. In 1991, Miyota was listed in the Guinness Book of World Records for producing 1.7 billion movements in the Cal.2035 series. Miyota quickly ascertains market trends and works to create new ones. In 1989, we created the Cal.6P Series which are multi functioned movement, and in 1992, we developed the full-fledged chronograph Cal.0S Series, touching off a chronograph boom. In the 2000s, Miyota worked hard to create new trends. This included being among the leaders in the thin-watch boom and developing next-generation movements.
1980

Birth of Miyota
1981
1986

Achived No.1 worldwide watch production
1989
1992
1999

Cal.2035 Series
Records production of 1.7 billion units (The Guinness Book)
2001
2005

Cal.Super 2035debuted
Cal.2035 Series records production of 3.6 billion units
The manufacture of Miyota's analog quartz movements
Miyota's analog quartz movements are manufactured at the Miyota Saku Factory in Saku city, Nagano prefecture, Japan.
The factory, which was completed on Oct. 3, 2016, uses precise, state-of-the-art automation to make movements, movement parts and complete watches. The low-energy factory produces no pollution, is efficiently heated and cooled and uses Low-e glass that contributes to energy savings. The site has 26,000 trees and plants of 111 species. Miyota sends its employees to a Citizen watch school founded in 1921 to improve their skills and ensure professional production of all products.
1

Movement automated assembly line
— High speed & high precision

Various inspections including cog-wheel insertion, exterior, oiling inspections
Cal.2000 series automated assembly line capacity
Cycle time: One per second
Production capacity: 84,000 per day per line
Operators: Two per line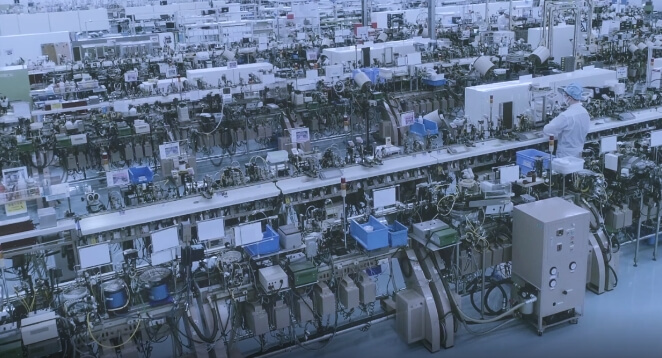 Full portrait of automated assembly line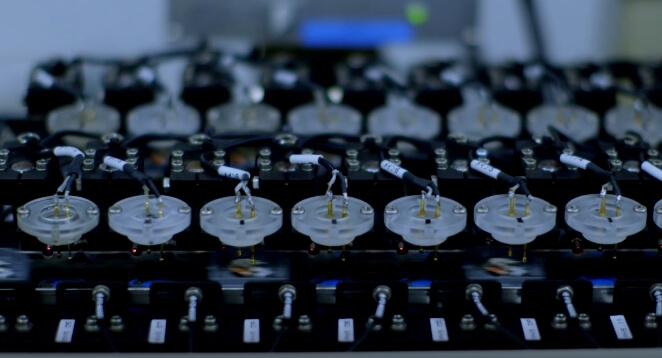 Electric current consumption measurement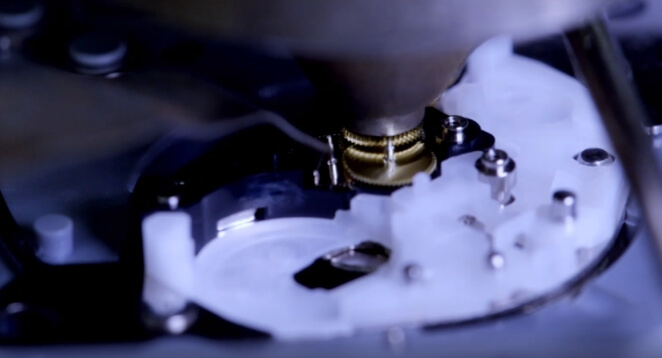 Gear train insertion process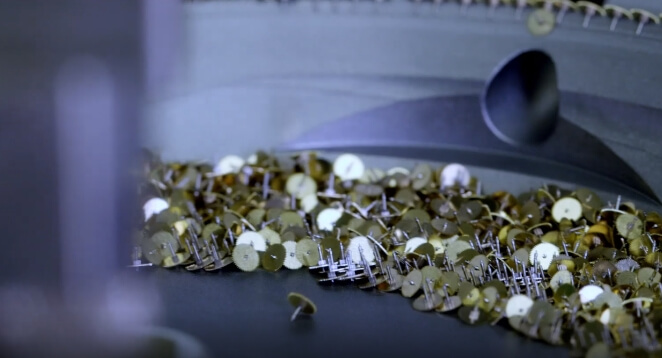 Parts feeder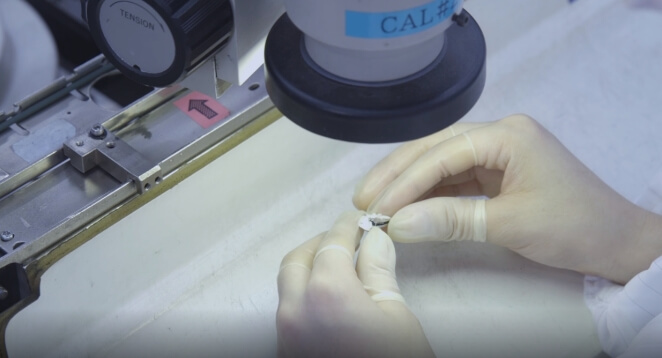 Exterior appearance check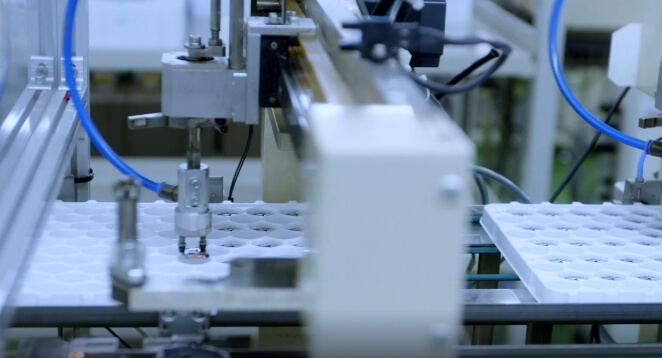 Placing on trays
2

About coils

- Coil wire
1/4 the thickness of a human hair (diameter 18.5-22 microns)
- Motor rotational frequency:
30,000-42,000 rotations per minute (5 meters per second) 
The coil is a part that generates magnetism to make the rotor rotate.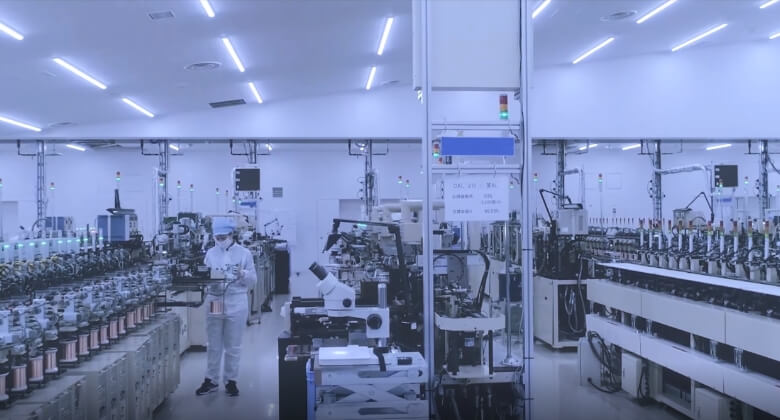 Full portrait of coil
---
3

About circuit block (IC+substrate)

There is also an automated line to assemble the circuits required for an analog quartz movement at the Saku Factory.
This part creates the electrical signal to display the time (the driving force).